Opinion piece in the Editorial section of the Washington Post, 2/23/2014
Article in Art Vagabond, Sept 17, 2012. http://www.artfulvagabond.com/
Pop Art, Op Art, Conceptual Art.
Significant movements in art, particularly modern art, have been clearly defined over the last century, but what would art historians of the future say about the art created today? Why are there so many artists opting to work in a variety of mediums and styles instead of following the latest "trend"?
David Beers is an artist who employs a diverse array of materials in his creative process, including watercolor, pen and ink, fused glass, silverpoint, oil, pastel, stone, metal, ceramic, wood and glass. "It has been difficult to define just what kind of 'age' of art we are in at the moment", says Beers. "We have so many '-isms' in play in art – all of which for the first time in history are valid at once. As the world has shrunk and social media has become ubiquitous, the world of art has for the first time been operating concurrently on a variety of platforms, which poses problems for the writer, critic and curator as they attempt to characterize the art world in a manner that makes sense for the viewing public, and also for the artist in terms of their focus."
Beers has remained resistant to suggestions that he must "narrow" his focus to fit the interests and aesthetics of a specific market. "Commercially, narrowing my focus makes more sense," says Beers, "but at the same time, I recognize that I do have a certain faculty to handle a variety of approaches competently and I love experimenting with different materials. Each medium has such unique properties that provide a different look and feel to each work of art – even if I am creating the same thing over and over. Working in many different mediums allows me to transfer some basic creative skills as I re-present an image I see, or a concept I hold in my mind, into a physical form. Yet, the final product is always different and, in being different, often encapsulates some new meaning or content that is not present in other works. So, materials are not simply a tool to create fresh new work visually, they are also a tool to create new content or meaning."
"I think we are in an era where anything goes," Beers continues, "where all '-isms' are valid and each are continuing their own refinement or expression in isolation. But each is also showing an ability to influence other 'isms' and we are beginning to see some migration across boundaries. With respect to artists, this is not necessarily a first, but never before has the artistic community worked within the context of such universal access to global markets, the increasing availability of quality materials and constant exposure to other artists, cultures and influences."
What does this mean to the artists of today? "This concept of materials and meaning led me to the writings of Charles Pierce and his essays on semiotics – the use of visual cues to create meaning," says Beers. "I use semiotics in my art to help me help me tie my work together and freely wade into any of the '-isms' without the fear or insecurity regarding the strength of my artistic voice."
Perhaps this era will be most noted for its diversity rather than a singular trend, freeing artists to follow their unique vision rather than a popular movement. It's a great time to be an artist.
- SerenaK
__________________________________________________________
For those of you who are new to Artful Vagabond, I have made a resolution to write a year-long series of daily posts: A 365-Day Tribute to Artists and the Creative Mind.
Here's the story behind these daily "resolutions":
__________________________________________________________
Artist Credits for the images included in this post:
Images featured:
Woman in Hat
David Beers, Maryland
Watercolor on paper
Iron Lady
David Beers, Maryland
Welded steel
Creation and the Damned
David Beers, Maryland
Fused glass
Stepping Out
David Beers, Maryland
Mixed media on paper
David Beers' artwork can be viewed at: dbeers Fine Art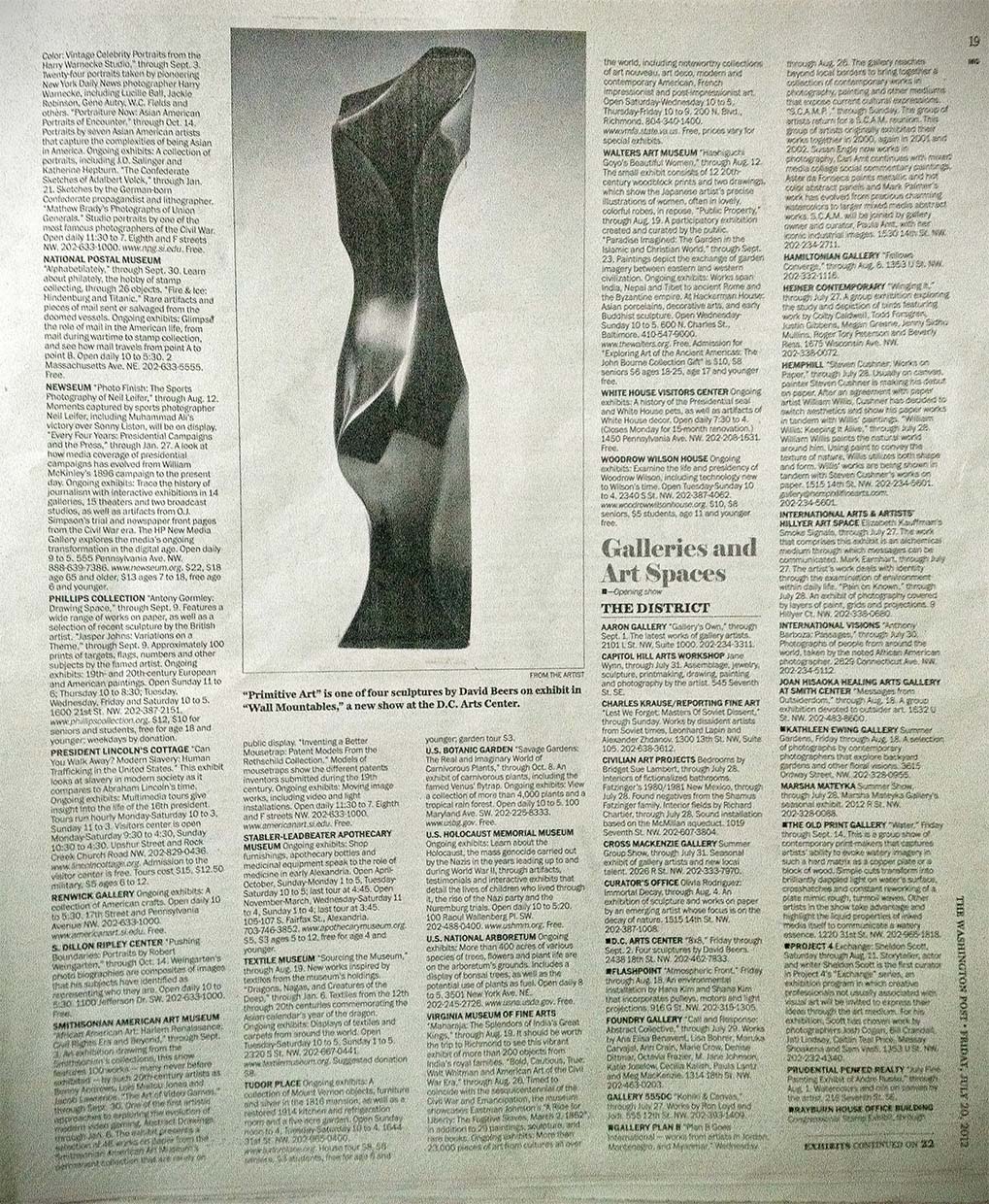 The Washington Post, Weekend Section, July 20, 2012, p.19. Featuring Primitive Art as part of a group show Wall Mountables, by The DC Arts Center.
---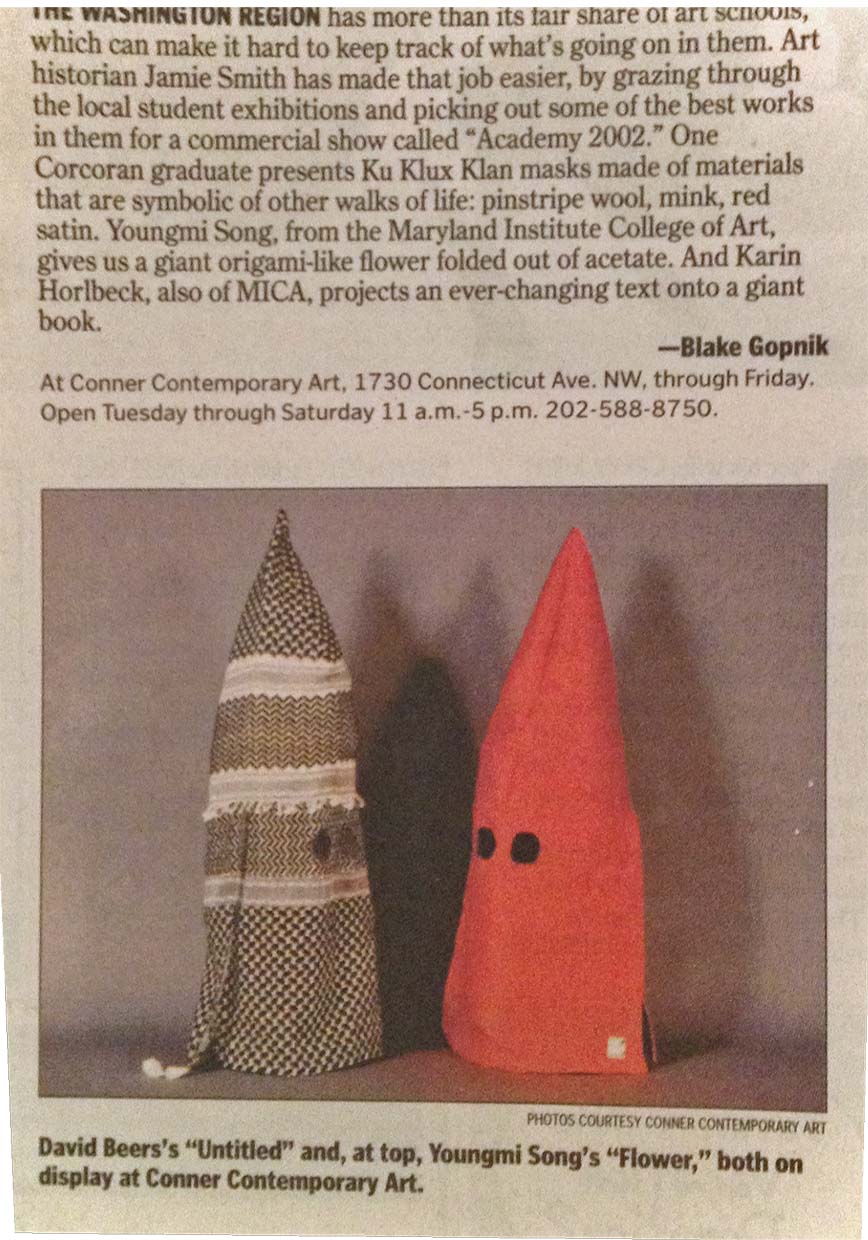 The Washington Post, Arts, July 2002. Featuring a series of 7 refrabricated KKK hoods at Connor Contemporary Art's select show "Academy 2002" juried by Jamie L. Smith, Phd.